Transform your Grinder into an "All-Purpose" Cutter !
Sparks generated in cutting steel could lead to an accident resulting in burns or a fire, consequently it is a serious problem for steel processing industries. "NKS-125" is the first attachment which dramatically reduces the level of sparks whilst cutting metal using the Metal Saw Blade fitted to an Angle Grinder - normally not suitable for this type of saw blade because of Health and Safety regulations. "NKS-125" prevents the scattering of sparks as well as the "kick-back" normally experienced, ensuring comfortable and safe operation of the angle grinder. "NKS-125" accepts most popular types of blades including, Tipped Saw, Cutting Wheel, Diamond Blade, ...etc. and can be fitted to many models of angle grinder. Dust free operation is possible when fitted with the Hose
Spec
See the manualbelow for each areas.

Spare&Optional parts
■HORSE ADAPOER     NKS-D34

for effective dust control
※Red-boxed item only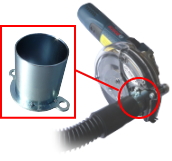 The adaptor NOT for METAL WORK.